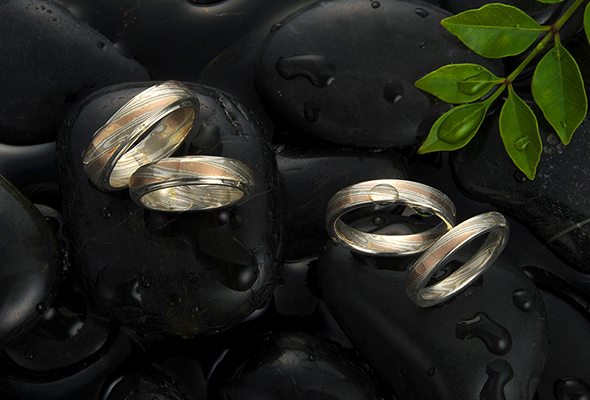 With the same technique as Edo period when mokume-gane was born. That's the answer that Mokumegane-no- Takata has reached. The Modern process of mokume-gane is manufactured and mechanized. Moreover, the labor is divided and the efficiency of business is prioritized. Who can call it "The real mokume-gane"? Spending plenty of time for each pair, Mokumegane-no-Takata dedicates to make wedding bands from one sheet of mokume-gane laminate. There are some ties among the creator of mokume-gane Jyukichi Suzuki, many craftsmen who have inherited the technique of mokume-gane, our craftsmen, and you visiting our web site now. This is the way that mokume-gane rings encounter you at last. Different kinds of metal meet by some ties. Wood grain patterns of mokume-gane agree with a man and wife; they are joined together and pile up the layers of time together. The one ring has been made in this one and only world. It takes 6 months to complete making rings because we have got lots of orders.
Mokume-gane
Mokume-gane is called mixed metal with wood grain patterns or the technique. Patterns are made by piling and joining different kinds of metal, making use of the characteristics of metal; malleability and ductility.
Denbei Shoame of Dewa Akita created the technique of mokume-gane. (Denbei's real name is Jyukichi Suzuki) He was born in 1651, the first term of Edo period.
Heated at high temperature, red-hot metal is beaten and forged by a hammer many times over. After metal goes thinner, a chisel is used to dig down. As metal goes even thinner with a hammer, different colors of metal layers appear to be wood grain patterns.
By the way, various documents tells us that the word "mokume-gane" itself is used from long time ago, not made recently.
The Origin of Mokume-gane
In Muromachi period, the technique called "guri-bori" was imported from China. By piling different colors of Japanese lacquer and digging down, arabesque and whirling patterns appear. It is commonly known that guri-bori technique was applied to make wood grain patterns with metal.
Denbei Syouami of Dewa Akita, the creator of mokume-gene, was born in 1651, the first term of Edo period. (Denbei's real name is Jyukichi Suzuki and the name of era is Kei-an.) He was a trainee of Syoami group, the famous party of craftsmen making the decoration of swords. After moving to Akita, he served as the stable craftsman of Satake clan and then has gone down as the skillful craftsman of the decoration of swords.
The Crisis of Mokume-gane
In 1876, the ordinance was issued that banned carrying a sword in public. Many craftsmen knowing mokume-gane was force to close their business and the tradition of mokume-gane has been ceased.
In Syowa period, once mokume-gene was revived by the reference of literature and remained originals. But very few people knew mokume-gane because extremely few people were able to make it.
Afterwards, however, mokume-gane begun to be highly recognized all over the world ahead of Japan, mainly in the US, because mokume-gene begun to be known as the Japanese traditional technique used in the decoration of swords. Accompanying with the spread of the recognition, mokume-gene becomes popular also in Japan nowadays.
The Use of Mokume-gane
In Edo period, the age that mokume-gane has been completed, mokume-gane was used in the decoration of swords for Daimyo or the upper class of Bushi. By changing the ratio of gold, silver and copper, various patterns of color surface was created.
Today, mokume-gane has been used in many ways such as wedding bands, an engagement ring, articles, teaset, sake-set, a vase, a pot and dishes. Particularly, wedding bands are usually made with colored alloys of platinum and various colors of K18.
Mokume gane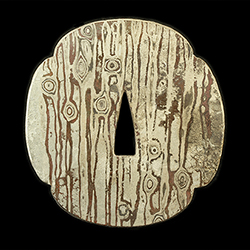 Recommended handmade ring workshop for you is here → Handmade ring